Artificial Intelligence (AI) models are helping businesses more effectively analyze and synthesize an abundance of data and enabling organizations to leverage those insights to better serve their customers. For example, thousands of companies, including Grain, are embedding new AI models like AssemblyAI's Conformer-2 model to offer impressive transcription and audio analysis capabilities to consumers.
The product team at Grain, an AI-powered meeting recorder trusted by 100,000+ users, integrates powerful AI models into their tools and features to help users better understand and advocate for their customers' needs. With a clean, easy-to-use UI, Grain's platform lets users automate previously manual, low-level tasks and spend more time performing AI-augmented analysis that fuels intelligent, actionable insights.
One of Grain's customers, Drivetrain, describes how "Grain is the heart of our day-to-day operations. We use it to provide visual meeting recaps to clients and partners, capture high impact moments on delivery meetings, and provide real-world training and support to our team."
Grain's Co-founder and CEO, Mike Adams, explains that Grain's premise comes from the idea that in today's digital world, every conversation–from phone calls to lectures to team meetings– can now be considered data that can be put in a digital format and manipulated by Large Language Models.
Turning these unstructured conversations into an output that is repeatable, useful, and valuable for Grain's customers is one of the company's top priorities.
This is why, Adams continues, "At Grain, we've been increasingly leveraging Large Language Models to help our customers make better sense of this data through AI identification, flagging, highlighting, clipping, and summarization."
For Grain's platform to generate the most intelligent insights possible, Adams knew that Grain's product team needed to focus on ensuring each audio and video file its platform processed was transcribed at near human-level accuracy.
"Everything in statistics comes down to garbage in and garbage out. So depending on the quality of your natural language processing and your speech-to-text, that's going to impact the quality of your analysis," explains Adams.
This understanding led Grain's product team to switch from their previous provider to AssemblyAI.
Built using the latest state-of-the-art research and architectures in AI, AssemblyAI's models are robust, secure, and scalable, helping teams like Grain's build high-performing tools and features faster.
By integrating AssemblyAI's Core Transcription Model, Grain's product team can ensure all transcripts produced by its platform are at the highest accuracy. In turn, highly accurate transcripts translate into better intelligent insights for Grain's core customers.
Try AssemblyAI's Core Transcription model, powered by Conformer-2, for free in our AI playground
These AI models help Grain's customers achieve what Adams views as "augmented intelligence," with its AI-powered tools, or tools that help users become smarter, more productive versions of themselves.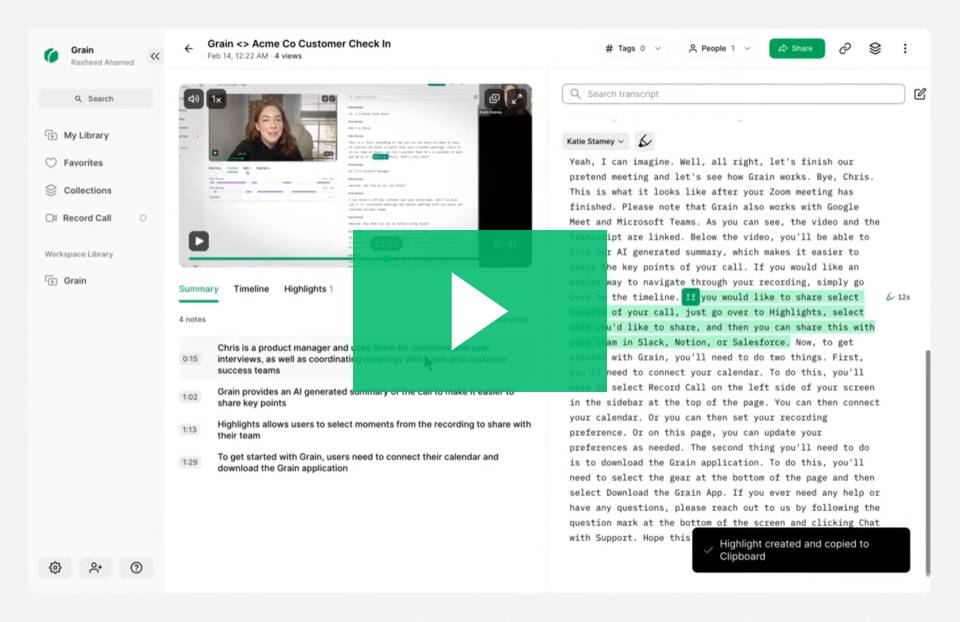 For example, Grain recently added a new AI meeting summaries tool to its platform that automatically generates key takeaways from each recorded customer meeting. Then, users can copy and share the summary with other team members with one click. This streamlined process enables better context sharing across teams, increases visibility of key messaging, and reduces time spent on tedious manual tasks. Grain's customers, such as Zapier, webflow, and AngelList, have responded positively to this new addition.
See an example of the AI summary tool in action at the end of this case study.
In the future, Grain plans to release additional AI-powered features for its customers, and to continue to find ways to use AI as a meaningful force for good that augments its customers' analytic capabilities and unlocks greater levels of insights.
Interview summary
AI-generated summary of the interview between AssemblyAI and Grain, as provided by the Grain platform.
(1:37) - Mike explains that Grain turns conversations into useful content for sales, product research/insight, and support/success purposes.
(7:41) - Mike differentiates Grain from other meeting insight and recording tools by democratizing access to conversation intelligence for various use cases, not just sales.
(10:42) - Grain's core experience is centered around live annotation and turning notes into shareable video clips; they have been investing in automation using AI to identify important moments in calls.
(18:22) - Grain recognizes the responsibility of using AI technology and prioritizes accuracy and source of truth to avoid errors and maintain user trust.
(22:12) - Grain emphasizes the importance of transcription accuracy for high-quality analysis and output, and explains how AssemblyAI is their core transcription provider with custom dictionary capabilities.
(28:21) - The decision to switch to AssemblyAI was primarily driven by cost per hour, but the platform's competitive pricing and other features led to the team's support of the decision.
(30:05) - AI helps Grain customers save time on low-level tasks like annotation and indexing, allowing for more time on high-level tasks like decision making and collaboration.
(46:16) - The long term vision for Grain is to be a part of the trend towards recording and analyzing more conversations, which will become the norm as people realize that most conversations are not sensitive or interesting.
Want to learn more about building AI-powered tools that generate insights from customer meetings? Watch the full interview on demand.