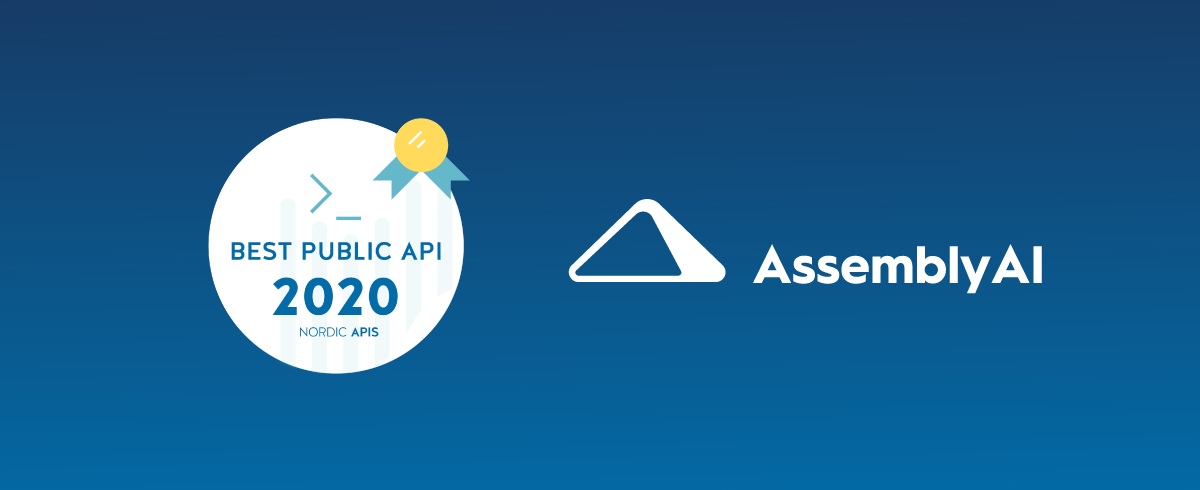 This week Nordic APIs announced AssemblyAI Speech-to-Text as the Best Public API in 2020!
Nordic APIs holds this competition each year as one of the most trusted sources in API reviews and recommendations. Read the full press release here.
We have more on the way with Nordic APIs, including a full review of AssemblyAI and a LiveCast on our most up-to-date research!
Stay in the loop our release on social ⏬
🏆 @AssemblyAI Wins the Nordic APIs Best Public #API 2020 — Congratulations!

It was close. 😅 Well done to runners up @youngapp_pf @mbdevelopers SPENDiD @PDFGeneratorAPI @RingCentralDevs @amadeus4dev

Huge thank you to our judges! @ARGlick @travisspencer @zdne @asbjornu @adamd pic.twitter.com/myoSnMzHfq

— Nordic APIs (@nordicapis) September 29, 2020
Congrats @AssemblyAI 👍 https://t.co/nFyVggSpoB

— Mercedes-Benz /developers (@mbdevelopers) September 30, 2020
🤩 Huge thank you to @nordicapis for choosing us as their Best Public #API of 2020!

Special thanks to the judges @ARGlick @travisspencer @zdne @asbjornu @adamd 🙏 https://t.co/OAsL890u22

— AssemblyAI Speech-to-Text API (@AssemblyAI) September 29, 2020
Congratulations to @AssemblyAI on winning Nordic APIs Best Public API 2020! https://t.co/NMy60I3UYk

— 𝙱𝚒𝚕𝚕 𝙳𝚘𝚎𝚛𝚛𝚏𝚎𝚕𝚍 (@DoerrfeldBill) September 29, 2020
Huge congratulations to @AssemblyAI on winning this year's Best Public #API award! 🎉 https://t.co/esVK4GlHX2

— Mike Stowe (@mikegstowe) September 29, 2020